Tour of Spiesheim's History
Anton Dexheimer – German Immigrant to America
Anton Dexheimer was born on June 2, 1817 in this house in Spiesheim. At the age of 25 he left the village for America in 1842.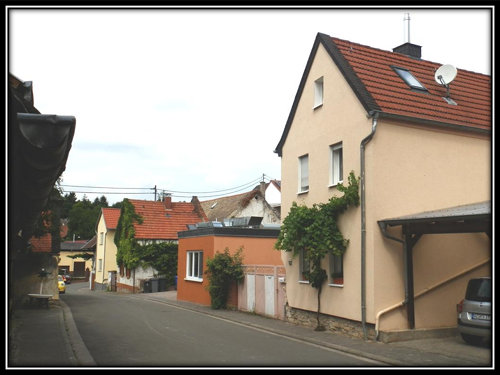 Birth house of Anton Dexheimer in Spiesheim/Germany - 2016
His father was Wilhelm Dexheimer I, a day laborer, ploughman and field guard who was married to Anna Elisabeth Jung .They had five children, Anton was the youngest and he also worked as a day laborer.

Anton's family lived in that small then one story house on Church Street, close to the Catholic Church with its mighty tower built in 1050.
Life in Spiesheim meant hardship those days. The extreme poverty of many families, war, religious reasons, the continuously growing population, frequent bad harvests and famine made living full of deprivations.
At that time America was a dream, for many people in Germany and Europe - and also for many citizens of Spiesheim. In the 19th century millions of German emigrants were attracted by that "Promised Land" across the Atlantic Ocean - Anton Dexheimer was one o f them.
The reason for his decision to leave home was definitely the economic situation. A life without much promise left him little choice but to seek a better life with more opportunities in a new place.
More than 200 people from Spiesheim also left the village between 1836 and 1877 emigrating mainly to North America.
On May 13, 1842, Anton Dexheimer arrived in New York on the Sailboat "Louis Philippe" departing Le Havre/ France, accompanied by more fellows from Spiesheim and people of neighboring villages in Rhine-Hesse/Germany.
Excerpts from the passenger list........ ......arrived in the Port of New York on 13 May 1842, accompanied by Wilhelm Dexheimer , Henry Gerlach , Anton Dexheimer , Philippe Koehler and Anna Jung , aboard the Havre Packet Ship Louis Philippe,
Not all ships reached their destination and even if they arrived at New York harbor, often the expectations of the emigrants were not met. Homesickness, the lack of language skills and separation from friends and relatives were only a few deprivations they had to endure. The telephone was not fully developed at that time. Communication with relatives and friends back home could only be done by mail or via letters by returning emigrants or travelers, taking sometimes month to reach its recipient in their homeland.
Anton Dexheimer settled in Town of Rhine/ Wisconsin in Sheboygan County, on very fertile land, with small hills, reminding of Rhine-Hesse/Germany, the region he came from - but a land without vineyards.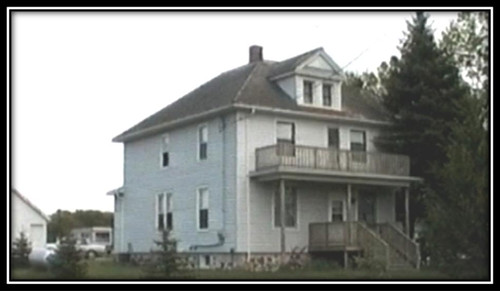 Homestead of Anton Dexheimer in Town of Rhine / Sheboygan County Wisconsin / USA
In the Great Lake area close to the western shore of Lake Michigan in a rural, peaceful part Anton Dexheimer found his place to settle as one of the pioneers in Sheboygan County .Wisconsin / USA. He cleared the land, managed a farm and married Elisabeth Dürking. They had 10 children.
About 150 years later, his Grandson, Great-grandson and their spouses visited Spiesheim in 1986. They had never been to Germany before and did not even know that their ancestor came from that village.
John Dexheimer
Son of Anton Dexheimer
Clarence Dexheimer
Grandson of Anton Dexheimer
Richard John Dexheimer
Great-grandson of Anton. Dexheimer
Arriving at Frankfort Airport, they headed for the village of Dexheim seeking there for their family roots. On their way, Grandson Clarence remembered that in their farmhouse in Town of Rhine/Wisconsin used to be a picture or something of Spiesheim. With the help of the phonebook and some Dexheimers in the vicinity they spoke to, they finally were directed to Spiesheim. Just by chance they called Erich Dexheimer who was home that day. He spoke English and he invited them.
They arrived the next day in Spiesheim and it is almost unbelievable - but they parked their car right across the very house where Anton Dexheimer was born in. This was found out and confirmed the same day.
Contact was made the same afternoon with Hans Walter Hessinger, who was born in Spiesheim and lived in Ober Flörsheim for more than 40 years. He intensively did researches of the Spiesheim History and specifically of the Dexheimer families in the village. Existing historical documents proved and quickly confirmed that Anton Dexheimer had lived in Spiesheim at Kirchstr. 12 (Church street)
About Anton's experiences in the new homeland America, his Grandson Clarence talked about that afternoon. Even so he didn't speak any German, during a snack he suddenly said the word "Schwaatema"(Schwartemagen) and even remembered that kind of typical Rhine-Hessian sausage.
In 1995 Erich Dexheimer from Spiesheim visited Clarence and his wife Florence in Sheboygan / Wisconsin. Son Richard and his wife Sue took him to Anton's homestead out in the Town of Rhine. The big old trees lining the driveway to the farmhouse was really an overwhelming sight. Right here in the middle of America was something that actually started 150 years earlier in Spiesheim / Germany. It was a shivering experience and somehow created a bond with the new found Dexheimer relatives who gathered that night at Clarence and Florence house. A look into the local phonebook discovered another surprise and showed that there were plenty listings of the name Dexheimer , also of other family names of German origin like Schmitt, Müller etc.
At nearby cemeteries also many German names could be found on the tombstones.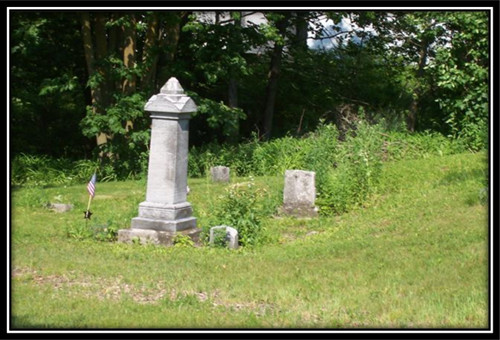 Anton Dexheimer and his wife Elisabeth are buried in Rhine/ Wisconsin. Out in the field, on a small grave hill, their last resting place and tombstone are still there.
Richard Dexheimer, Anton's Great-grandson and his wife Sue live in Dallas today (2016). Their children Debra and Karen have their own families.
In 2016 their next descendants from the same family roots in Spiesheim with the family name Dexheimer are Walter Dexheimer and his daughter Carolin. (and his wife Bettina).
Considering the present refugee problem in Europe, especially in Germany, we should not forget that millions of Germans emigrated during the last centuries for similar reasons as today's refugees. Even though it still meant risk and hardship for many of them they were grateful to find a safe environment and a chance to build a new life.
Text and Translation 25: Erich Dexheimer
Pictures: Erich Dexheimer and Sue Dexheimer
Family tree: Ingolf Jung
November 2016